Art Pollard Racing 1962 through 1965
1962 – Pat Vidan's first year as Chief Starter of the Indianapolis 500 (Shown in this video).
1962 – Again Art was the winner of the Edmonton Gold Cup at the Edmonton International Speedway.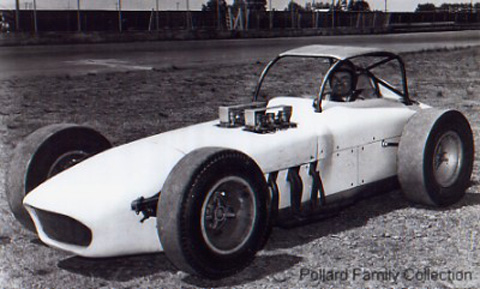 Photo courtesy of Mike Pollard
1964 – Art is shown sitting in his new Super Modified Sprint racer for the 1964 season. (above) An Indy roadster with top, 327 Cubic inch Chevy V8, cross torsion bar suspension, tube space frame, fibre glass body, engine offset to left 10 inches, built in 1964 by Leve Jones, Puyallup, Washington.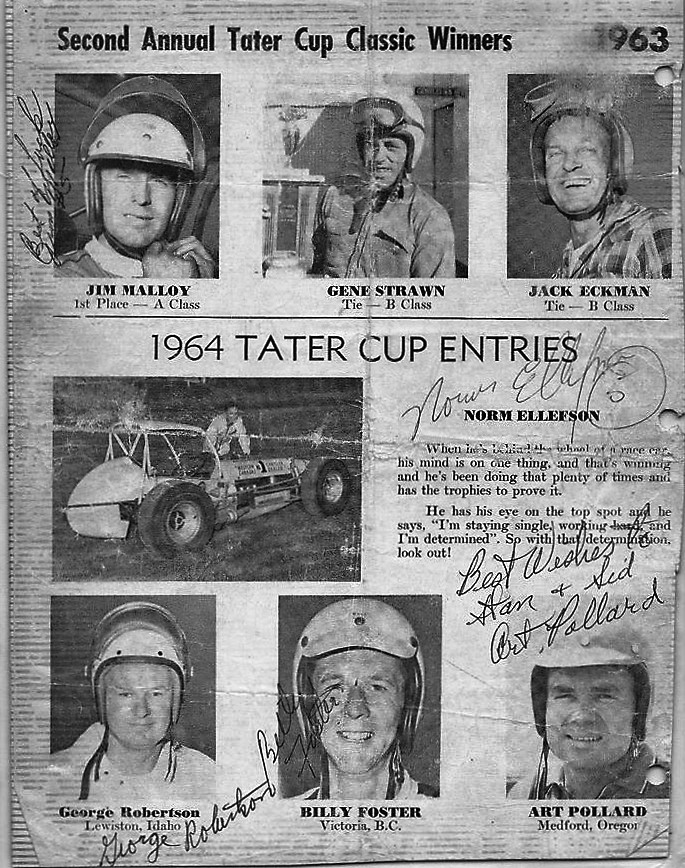 Photo courtesy of Mike Pollard
1965 – Art and his son Michael stop to pose for a photo at a Sprint Car race in Portland, Oregon. (shown above)
August 22, 1965 – Art Pollard competes in his first USAC Champ car race at Milwaukee in a rear engined Vollstedt with Offenhauser power owned by Jim Robbins. Art started 25th but spun out and was credited with 22nd position. Art won $186.00 in his 1st Indy car start.
September 26, 1965 – Art took his Jim Robbins Vollstedt/Offy to a 5th place finish after starting 13th at Trenton. This race paid Art much better as he went home with his share of $1480.00 ($11,500. in 2017 dollars!).
October 24, 1965 – Back on dirt in a Dodge powered Kurtis champ car owned by Don Collins. Unfortunately, the engine lost oil pressure and he did not even start the race at Sacramento.
November 21, 1965 – A crash at Phoenix in the Jim Robbins Vollstedt/Offy left Art with a 19th place finish and his share of $241.00.