Art Pollard: The Life and Legacy of a Gentleman Racer by Bob Kehoe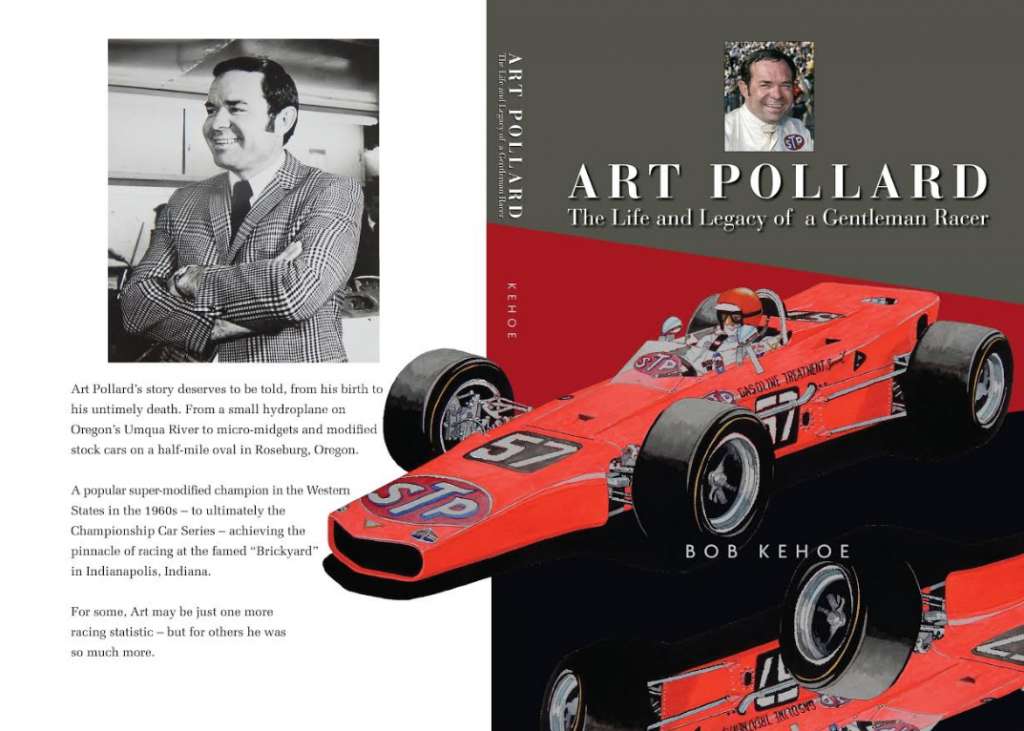 Support Small Business by ordering the book from Coastal181:
Click the button.

Or order from Amazon.com Print or Kindle:
Click the button.
About the Book:
Art Pollard's story deserves to be told, from his humble beginnings in Dragon, Utah to his untimely death on Pole Day at Indianapolis in 1973. From a small hydroplane on Oregon's Umpqua River to micro-midgets and modified stock cars on a half-mile oval in Roseburg, Oregon. A popular super-modified champion in the Western States in the 1960s – to ultimately the Championship Car Series – achieving the pinnacle of racing at the famed "Brickyard" in Indiana.
About the Author:
A native of Portland, Oregon, Bob Kehoe is a freelance automotive journalist and photographer who wrote his first car column for his high school newspaper. Following a stint in the U.S. Coast Guard and a career in the high-tech industry, he turned to automotive writing on a full-time basis, beginning with the Oregonian newspaper in 1994. Additionally, he has written for other publications including Speedvision Online, DRIVE! Magazine and eBay Motors. He has held positions as Media Coordinator for an SCCA Pro Series, and Public Relations Coordinator for a producer of major hot rod shows. Bob and his wife Karen reside in Hillsboro, Oregon.
Art Pollard book touches on racecar driver's kindness, humor | (Douglas County Oregon) News-Review | TOM EGGERS News-Review Sports Editor | Nov 25, 2016
Art Pollard was a top-notch racecar driver, but there was more to him than that.
That point was clearly emphasized in Art Pollard: The Life and Legacy of a Gentleman Racer. The book was released this year by Bob Kehoe of Hillsboro.
Pollard, a 1945 graduate of Roseburg High School, began his racing career in Roseburg. He moved up the ranks, eventually testing himself against the best in the United States Auto Club Championship Car Series. The organization sanctioned the Indianapolis 500, which Pollard raced in five times.
Unfortunately, Indianapolis Motor Speedway was where Pollard lost his life in an accident on May 12, 1973, during a practice run for the Indy 500. He was 46. READ MORE
Judy Pollard enjoying Art's race car in their Medford driveway in 1967. The neighborhood kids (and dogs) were thrilled! (Pollard Family Collection)
Art Pollard (Dad) began racing a small hydroplane on Oregon's Umpqua River, next micro-midgets, then modified stockcars in a half-mile oval in Roseburg, Oregon. He went on to become a popular super-modified champion in the Western States in the 1960s—and finally, the Indy Racing circuit—achieving the pinnacle of racing, the famed "Brickyard"—Indianapolis Motor Speedway in 1967.
Judy Pollard Dippel, Art's daughter
"In 1961, Art won one of his favorite races, The Western States Championship in Fresno Ca. Art and his crew started 28 main events and won an astonishing 22 of them."
Pacific Racing Association
"Perhaps his most admirable quality (off the track) was his ability to take a moment of his time and make everybody he talked with feel important. He really was an extraordinary individual blessed with many rare qualities and talents."
Pacific Racing Association
"Art Pollard was a credit to the sport of auto racing. He is our most famous son, and whether you were privileged to know him or not you can take pride in the fact that Art was one of us."
Pacific Racing Association
"Our promise to Mike and Judy, and all who all knew him best, is as long as there is a Pacific Racing Association, Art Pollard will never be forgotten, both for the kind of guy he was and for his contributions to the sport we all love so much."
Pacific Racing Association
"(In early 1960s) I felt more comfortable running wheel-to-wheel with Art than anyone in history. He beat me every time by about six-inches, but we had standing ovations from the crowd…"
Dick Simon, retired driver and owner, Championship and Indy Racing League, NASCAR
Race driver, Dick Simon: "Art was phenomenal, and probably one of the best individuals I've met in my entire life. He was a true sportsman, a very strong competitor, and wouldn't hurt a fly. He was very courteous as a driver, but very strong and aggressive on the track—but with respect for the other driver."
Innovative Turbines of 1968: Art drove #20
In 1968, all three of Andy Granatelli/Colin Chapman designed turbines made the field on the first day of qualifications. Colin Chapman had returned to Indianapolis and Parnelli Jones was lending his expertise to the Granatelli team. The second car out on the track was Graham Hill #70, who posted a four-lap average of 171.208 mph. Bobby Unser, in Dan Gurney's Eagle chassis with turbo-Offy power, set the second fastest average speed of 169.507 mph. It was then Joe Leonard's turn in his #60 STP turbine. He really put his foot into it and topped teammate Hill's speed with an incredible 171.559 mph average. For the third turbine, Granatelli lost the services of Jackie Stewart; he was suffering from a hairline fracture in his wrist and was forced into a cast, making him unavailable as a driver.
The first part of May, 1968, Granatelli signed Art Pollard to replace Jackie Stewart. Art had little practice time in the car, but late in the afternoon, Art pulled onto the track in his #20 turbine, and his average speed of 166.297 was good enough to earn the 11thstarting spot in the middle of the fourth row.
Art commented on what it was like to drive the turbine car for the first time. "It was really impressive," he said. "It's just like driving a passenger car. It just makes driving at Indianapolis easier. Actually, it isn't the turbine, but the four-wheel drive and the engineering and the chassis. It's different to drive, too. You have to anticipate the throttle—there's a lag there. It's probably more psychological because of the instant response with a gas engine. You have to get on the turbine much sooner. If you wait too long, you bog down."