Art Pollard and Children Got Off to a Great Start—to begin a legacy!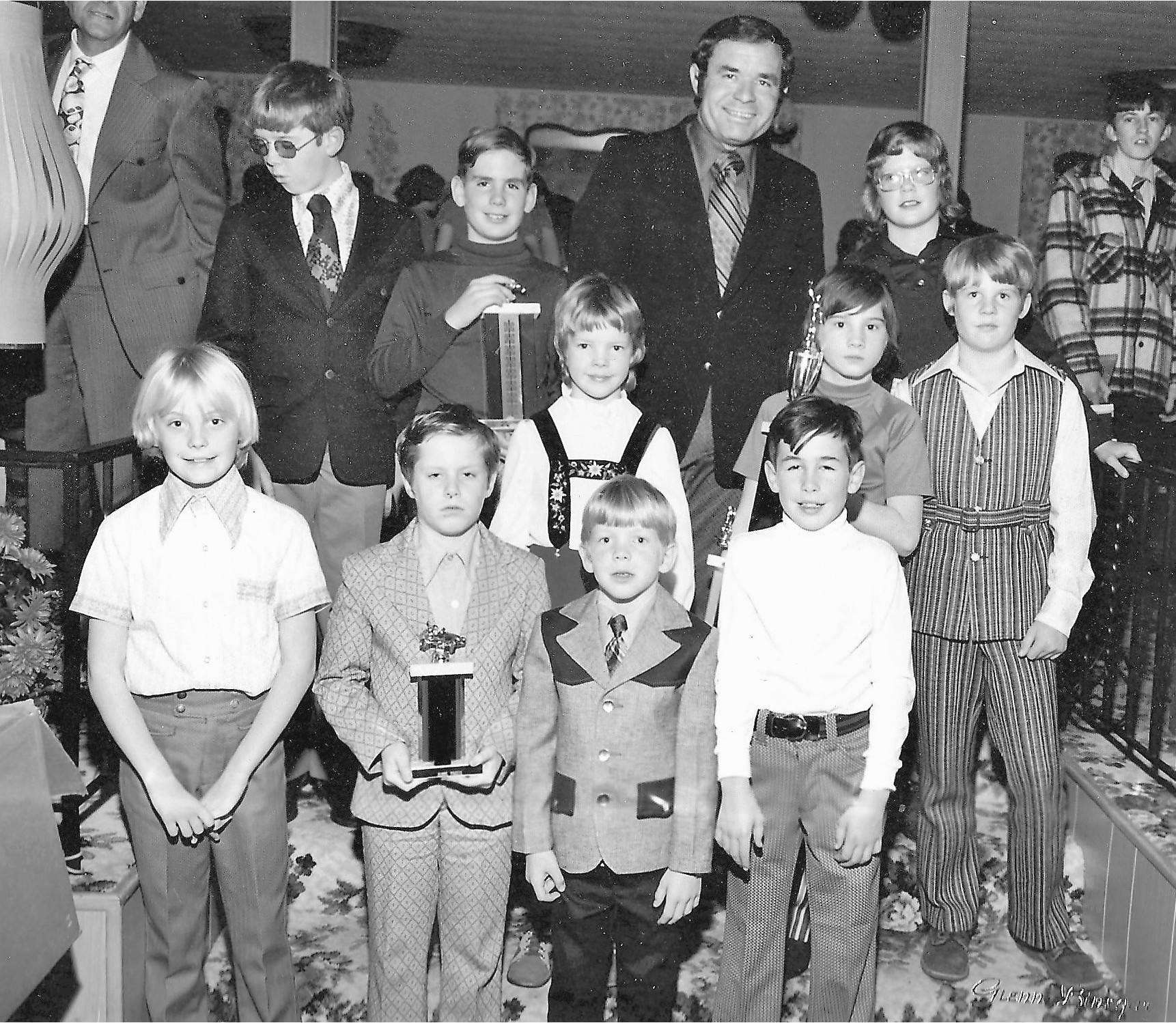 Art held a strong bond with all children. He is shown in this picture as the guest speaker at a banquet for kids' midget racing.
(Pollard Family Collection)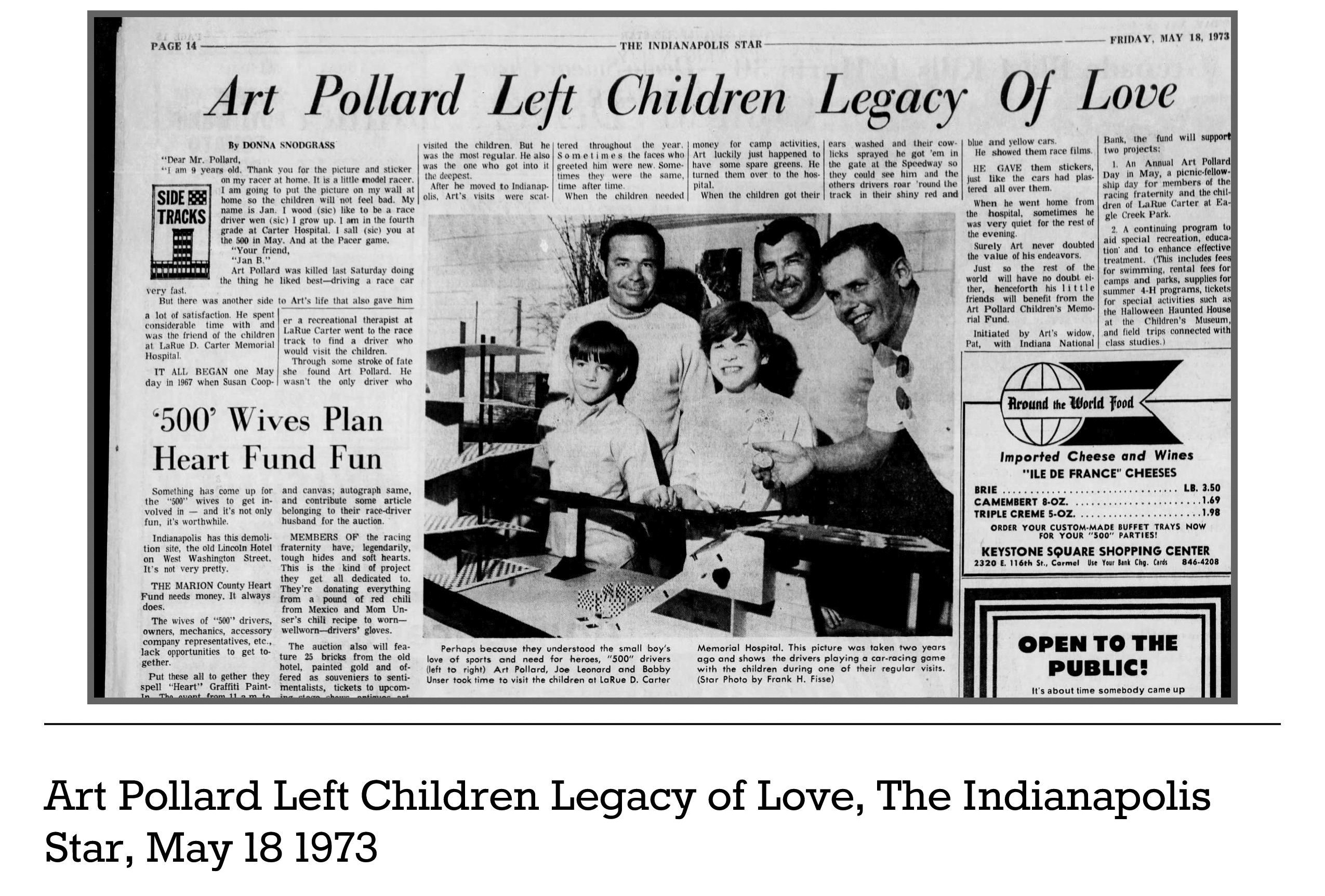 Media: Indianapolis Star, Friday May 18, 1973 | Author: Donna Snodgrass | Article Title: Art Pollard Left Children Legacy Of Love
"Dear Mr. Pollard,
"I am 9 years old. Thank yo for the picture and sticker on my racer at home. It is a little model racer. I am going to put the picture on my wall at home so the children will not feel bad. My name is Jan. I would like to be a race driver when I grow up. I am in the fourth grade at Carter Hospital. I saw you at the 500 in May. And at the Pacers game.
"Your friend,
"Jan B."
Art Pollard was killed last Saturday doing the thing he liked best—driving a race car very fast.
But there was another side to Art's life that also gave him a lot of satisfaction. He spent considerable time with and was the friend of the children of Larue D. Carter Memorial Hospital.
IT ALL BEGAN one May day in 1967 when Susan Cooper, a recreational therapist, at Larue Carter went to the race track to find a driver who would visit the children.
Through some stroke of fate she found Art Pollard. He wasn't the only driver who visited the children. But he was the most regular. He also was the one who got into it the deepest.
After he moved to Indianapolis, Art's visits were scattered throughout the year. Sometimes the faces who greeted him were new. Sometimes they were same, time after time.
When the children needed money for camp activities, Art luckily just happened to have some spare greens. He turned them over to the hospital.
When the children got their ears washed and their cowlicks sprayed he got 'em in the gate at the Speedway so they could see him and the other drivers roar 'round the track in their shiny red and blue and yellow cars.
He showed them race films.
HE GAVE them stickers, just like the cars had plastered all over them.
When he went home from the hospital, sometimes he was very quiet for the rest of the evening.
Surely Art never doubted the value of hs endeavors.
Just so the rest of the World will have no doubt either, henceforth his little friends will benefit from the Art Pollard Children's Memorial Fund.
Initiated by Art's widow Pat, with Indiana National Bank, the fund will support two projects:
1. An Annual Art Pollard Day In May, a picnic-fellowship day for members of the racing fraternity and the children of LaRue Carter at Eagle Creek Park.
2. A continuing program to aid special recreation, education, and to enhance effective treatment (This includes fees for swimming, rental fees for camps and parks, supplies for Summer 4-H Programs, tickets for special activities, such as the Halloween Haunted House at the Children's Museum, and field trips connected with class studies).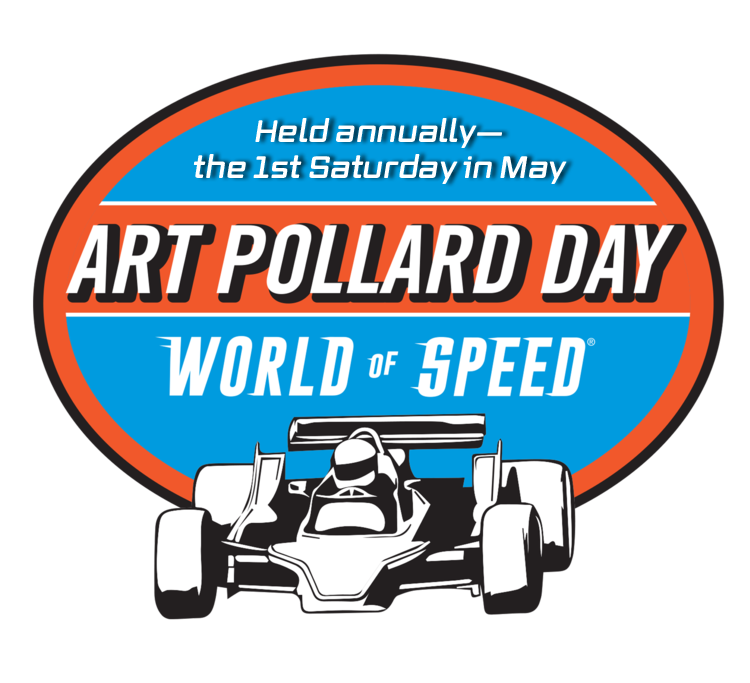 The Continuing Tradition: Art Pollard Day In May
Judy Pollard Dippel says, the "Art Pollard Day in May" with its blend of special activities for kids, and presentations for adults is Dad's perfect kind of day. All about Motorsports, the museum www.worldofspeed.org draws young and old alike—and on this day, when we get to publicly remember Dad for his unique blend of traits, is a wonderful gift to our family."
The World of Speed Motorsports Museum, in Wilsonville, Oregon, opened their doors in 2015, and working with Judy Pollard Dippel they established the annual "Art Pollard Day in May" the first weekend of May, 2016 on a Saturday.
What's the history behind the memorial, "Art Pollard Day in May?"
In 1966, Oregonian, Art Pollard lived in Indianapolis for the whole month, like all of the Indy drivers—and in 1969, it became his year-round residence. He had begun visiting kids that were in residential psychiatric care at the LaRue Carter Memorial Hospital, not always an easy or popular place for people to volunteer their time, much less busy race car drivers, but Art was drawn to these kids and had an innate ability to easily connect with them, often on the basketball court or through other games they could spend time doing together. A doctor at the hospital once said, "I wish all of my staff had Art's 'sixth sense' with kids."
Art's time spent with the kids there progressed naturally. It clicked! They understood his easy-going nature, good humor, and felt his acceptance of them. He wanted to give them a unique experience to make them feel cared about and special, so he began to organize a picnic in May within the famed "Brickyard," The Indianapolis Motor Speedway.
The kids were transported by bus with some of the staff from the hospital, and they spent the late morning and most of the afternoon with Art and the other drivers that Art got to participate with him (remember, this is the busiest month of the year, and the pressure to fine-tune the car's performance and qualify for the race was enormous).
But for Art, one priority for the month of May was his picnic for these kids! It was all about fun that could make a difference in their lives and organizing a special event at the track with the drivers! They played a softball game, got to take a ride around the track with an Indy driver, visit Gasoline Alley and the Indy Museum if the wanted to, and see all the elite places that many people never get to see. They sat and ate their picnic with Art's friends, the famous drivers who talked to them, spent relaxing time with them, and signed autographed pictures and other memorabilia that they could take back to their residence at the hospital.
In 1973, the day before Art had his fatal accident, he had firmed up the date for the kid's picnic. Art's widow, Pat Pollard and Art's friends, the other drivers saw that Art's legacy lived on that year, and through an annual Art Pollard picnic for the kids from LaRue D. Carter Memorial Hospital at the Indianapolis Motor Speedway. This event  lived on for well over twenty years—a legacy that impacted many kids lives—and no doubt made Art smile from above.
When the World of Speed opened its doors, with education for kids being one of their primary missions, what better way to memorialize race driver Art Pollard, then to commemorate him through a special day for kids at WOS in Art's home state of Oregon. So if you live in or around Portland, Oregon, check out the World of Speed the first Saturday in May—a perfect Art Pollard kind of day—for kids and adults alike!